Kiteboardgirl Linda – Wanderlife
PLKB and Lieuwe teamrider, blog owner and Dutch instagram favorite…  This inspiring kiteboardgirl is the owner and founder of Wanderlife. It's her boardsports blog.
I asked Linda some questions about her life and her blog.  I'd like to share it with the visitors of the Outbound Kitetravel travel-agency website, because I think it's inspiring to see how other kitesurfers travel, work and shred.
Check out the inspiring kiteboardgirl interview #3 with Linda!
What does a kiteboardgirl like you, do in de morning, to get ready for a day of kitesurfing?
Waking up with a Latte Macchiato while I am checking the latest forecast and the actual wind. When I finished my coffee I throw all my gear in the car and it's time to drive to the beach. At the beach it's time for one more coffee and then I am ready to shred!
My favorie place to wake up is the Element Watersports in El Gouna for sure. They have good coffee (= important) and the spot is just amazing. Flat and shallow water up to 1.5 kilometers from the coast. It's heaven for beginners and freestylers.
What does a perfect day of kitesurfing and working look like for you?
Well… the perfect day would be to wake up, drive to the beach for an early session, open my laptop (preferably at the beach) to do some work and finish the day with a sunset session. But this is still a dream to come true.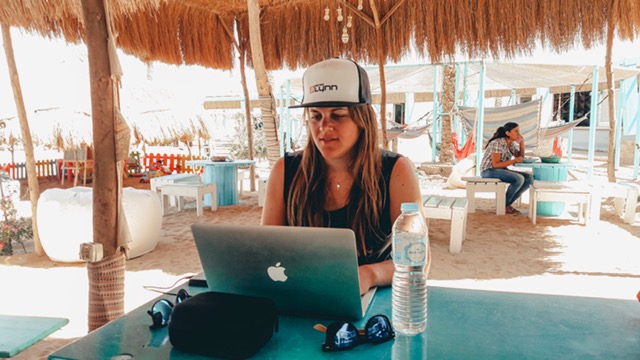 What are your goals for the future?
I would still love to find a way to be able to work more remote and plan my own day. No 9 to 5 mentality but working whenever there is no wind and be able to kitesurf more. Goals within kitesurfing are to improve and expand my freestyle tricks and to do more coaching.
I Love to share my passion with others.
---
One of the Wanderlife blogs:
How can we stay updated about all your kiteboardgirl plans and adventures?
You can follow my adventures via my blog (www.wanderlife.nl), my Instagram (www.instagram.com/kiteboardgirl) and don't forget to check out Kitegirls Netherlands (www.kitegirlsnetherlands.nl).
—
Inspiration and Images:  provided by Linda van Lakwijk/ Kiteboardgirl.
—
Hungry for more kitetravel related blogs? Click here!
Also, check out an other Inspirational kitegirls blog here:
–