Beach Bum Kelly – At Aloha
Always wondered what it looks like when you live on a stones-throw from the beach, are able to work remotely and own a super cute kitesurf inspired webshop? Then you should most deffo follow Kelly her stories @ At Aloha <3 
I asked Kelly some questions about her life and her kitegirl webshop At Aloha.  I'd like to share it with the visitors of the Outbound Kitetravel travel-agency website, because I think it's inspiring to see how other kitesurfers (in this case: kitesurfing girls) travel, work and shred.
Check out the inspiring kitegirl interview #4 with Kelly.
What does a kitegirl like you, do in de morning, to get ready for the day?
That's an easy one! Starting with Ziggy Marley! My favorite music at the moment.
Followed by a big cup of coffee and a power brekkie: Smoothie Bowls or banana pancakes most of the time – or both hihi.
What is the best place for a kitegirl to wake up?
It's my home! The beach is my backyard, when I wake up I open my window and see the ocean. Need to say more…. 😉 ? But okay, if I have to name one..  I will choose for a warmer place… Then it will be Bonaire – that feels like my second home. Im a BIG fan of flat water spots so Bonaire looks like paradise for me!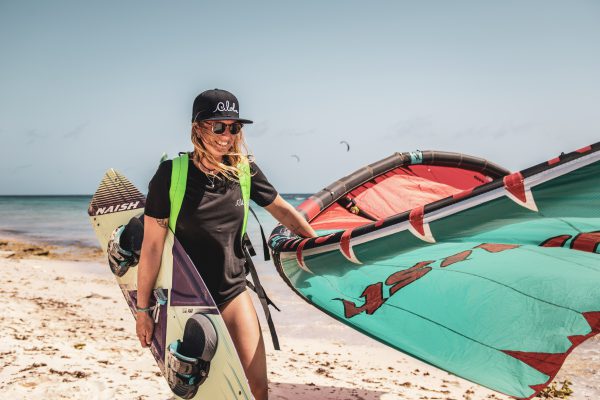 What does a perfect day of kitesurfing & working look like, if it's up to you?
When I see the forecast, and it looks pretty windy, i'll try to plan things so, that I don't have any appointments outside. So: I wake up early most of the time around 5:30 and start working behind my laptop. Working early is the best time for me, because I work with people from Indonesia so we have a time difference.
Then. Around 11:00, I'm  running to the beach and go for a session WHIIIEEEHOOOOO.
I just L O V E  that moment.
Around 14:00 I go back home for lunch and then it's back to work and – of course; going for a sunset session as well.
What are your goals for the future?
My goal is to travel, around the world. Being a kitegirl:  Kiting the most beautiful places and combine it with work. Searching for more collaborations to share and inspire:
---
Share the salty stoke with others, all over the world.
---
Check the AT ALOHA webshop:
How can we stay updated about all your inspiring kitegirl plans and adventures?
You can follow my adventures via instagram page: https://www.instagram.com/at.aloha/
—
Inspiration and Images:  provided by Kelly de Vries, At Aloha.
Hungry for more kitetravel related blogs? Click here!
Also, check out an other Inspirational kitegirls blog here:
–