Would you like to go on a kitesurf trip by yourself? In this article you can find a number of handy things that are good to know beforehand booking a "solo kitesurf holiday"!
Anything else you need to know about going on a ktiesurf trip alone? Let's get in touch!
Going on a kitesurf trip alone:
#1: How and Where will you meet other kitesurfers?
Some of you might be afraid to actually end up alone for the whole time during your kitesurf trip. We're not going to say that this fear is unreal BUT of course, there are many kitesurf trip destinations where meeting up with other kitesurfers will be easy (or easier!).
From experience and previous guest we can tell you that there are a few aspects, that you should keep in mind when you are planning your solo kitesurf trip:
Stay based on full board (or at least including breakfast):
Food connects. At the same time of the day, you'll be spending time in the same room or terrace as your new-found-kite-friends-to-be. When you make use of the buffet, it's very likely that you have some encounters with brief chats about todays wind, the menu, etc.
Suggested destinations for going on a kitesurf trip alone: Surfhouse Essaouira, the hotels in Dakhla, and WindTown in Brazil.
Party / Lets-go-to-the-beach-BBQ
Of course, there is a difference between staying at a tranquil lagune and staying in a village with numerous bars, hotels and cafe's…
On Cape Verde, Boa Vista, we have a collaboration with a kiteschool that is ran by a cool crew of locals. Born and raised on the beach. Not seldom they'll organize beach BBQ's with mojito buckets for the ones in for an after kite cocktail!
Other suggested destinations for going on a kitesurf trip alone: the surfhouse Essaouira, which serves dinner on the rooftop twice per week. Cozy BBQ time guaranteed! Of course the hotels in Dakhla, especially Attitude where they throw little beach parties at least once a week and WindTown in Brazil close to the buzzin' Cumbuco town -make sure to pack at least one dress/ shirt 😉 .
Group trip kitesurf
Yeah well, that one is pretty obvious. Sorry. Nonetheless, good to mention the pro's and con's about going on a group trip when you plan a kitesurf trip for "me myself and I".
Easy to meet others? 100% But was this really what you aimed for, when you thought about going on a kitesurf trip alone? Maybe not… In most cases, from the moment you arrive at the airport, you'll be taken care of. Great to put the mind at ease, but maybe you where looking for a bit more.
An other small con about going on a group trip is the group itself: rarely -but possible- you can't get along with the group and / or it's coaches and hosts.
Apart from being taken care of, a big pro about going with a group on your kitesurf trip, is the fact that you'll be meeting new people. You share the same passion and you'll always have somebody to talk to before going out "What size kite do you take?!" and of course when you get back "That was eeeeepic, right?!"
Follow our social media and we'll keep you posted about our group trips via facebook evenements or in our instagram stories.
Going on a kitesurf trip alone:
#2: How to make sure it'll not cost a fortune?
Many accommodations have a "price per night", not dependable of the number pf persons that will stay in that specific room or bungalow. When you go alone, it can get pricey..
Fortunately most offerers do have offers for the ones traveling solo. For example the hotels in Dakhla, where they charge you based on with how many persons you'll be staying. By the way: most locations where you'll be staying based on full board do so. Pretty logic, we reckon: more people in the accommodation = more people eating.
Also: Be aware to note the other way around! You see a price for a bungalow, and you think 'ah that's pretty good'. When you're halfway the booking process you notice the small printed letters …. "a supplement of €25 per night will be charged if you stay in the bungalow alone".
Make sure you'll do your homework when it comes to reading all the information provided on the hotels' websites. The prices on our website are prices "starting from". When you drop us a message with a request, we'll inform you within 24hrs what the accommodation price for you traveling alone, will be.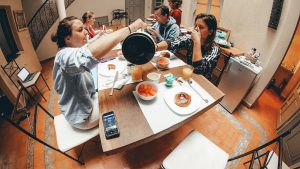 Going on a kitesurf trip alone:
#3: How to end up in a room with like-minded people?
Somethings, this can be quite a search when you know you want to be accommodated in a hostel/ shared room, during your kitesurf trip. First of all: how to find accommodations with shared rooms other then cheap hostels that will only draw in young party folk? Well, maybe, you should be looking at the facilities shared in the accommodation first. Maybe it can still be fine (price-wise) to have a bedroom for yourself while sharing the kitchen and living room is possible! Sharing common spaces is cool and this way you'll still have a place to fall back to when you want some alone time. Tarifa & Ibiza are good examples in Spain where you share common areas.
Make sure to check out, if your accommodation of choice is aiming for kitesurfers. What photos' did they publish? What is the tone of voice, on their website?
Don't want to wander (and get lost) in the internet jungle? Drop us a message, and we'll be helping you! 
Contact Form
"*" geeft vereiste velden aan