Have you ever played with the thought of becoming a 'digital nomad'?
As a flex-worker you are able to enjoy the perks of working wherever the WiFi signal is good and the coffee is tasty. However, this lifestyle can be quite demanding.So it is important to structure your workday and make sure you re-charge your battery. Find out how you can find the balance between work and leisure: Go on a Weekend Workation!
We give you five reasons why it is a great idea
The first and foremost reason is as simple as this. During this weekend you will not only be able to work and get inspired during the workshops but it is also a time to recharge. What better way to do this, with like-minded people? Practice yoga, (learn) SUP, wakeboarding or kitesurfing and enjoy new inspiration and influences.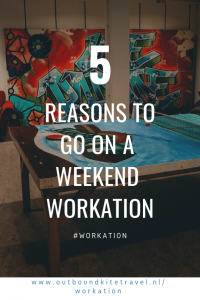 Networking while not working
Since it is a mini vacation, you might not find yourself working a lot. But since we are with this group of flex-workers (to be), you'll be networking anyway!
Find out how your fellow-participants work. This weekend workation is ideal to create new ideas and explore collaborations.
Outside your comfort zone
Have you ever tried kitesurfing? Or wakeboarding?! Maybe this should be that once-in-a-lifetime moment, where you just go for it. Give new sports a try! Enjoy being outdoor and get outside of that comfort zone.
Exploring a new city – find hidden gems
Holland is not all about 'Amsterdam' or 'Den Haag/ Scheveningen'. This little city called Alkmaar is in its full bloom! Close to the beach and the lake, this city surrounded by canals, has loads to offer. Enjoy a city walk and find cool stores with vintage or designer clothes and lots of cute coffee shops and cafes with healthy and tasty food.
Speaking of which: Food! Essential to be able to re-charge, right?!
We've found the best restaurants in Alkmaar where you can enjoy fair, biological and local foods. Loads of greens, vitamins and very affordable. We've set up a great menu for lunch, dinner and breakfast, so when you get a weekend pass or a weekend pass incl. sleeping, you don't need to worry about this at all!
Sit back, relax and enjoy good food!
Join us, check out the facebook event page to get all in the info about this weekend workation in Alkmaar.
Or, sign up directly for the inspiring Workation weekend, via this link.