5 MINUTES WITH…
Dil from KiteSurfing Lanka and Vayu resort
"You two go back a long time! It's fascinating, to read your story and to see how your friendship developed a super out-and-out kitecamp over the years".
Why did you choose Kalpitiya, and this particular location, to start Kitesurfinglanka?"
"At the time I quit my steady job at a corporate business, because my boss said I had to go live on the beach. So I received a 1,5 years salary, no strings attached. There is almost no better way to start of a business, right?" Dil smiles. "Then we started scouting locations. There were actually already a few kiteschools and small hotels at Kalpitiya. So for the first season, after Léo scouted the hotels, we decided to rent one. At the end of this first season, we came across the property that we are on right now".
"The camp reflects a lot of your personalities and values: Kitesurfing Lanka is a very divers Kitecamp. From big beach parties to chilled out yoga sessions or massages, sustainability workshops or rad downwinders and overnight trips. If you could name one thing, that represents Léo's and one thing that represents Dil's personality, that you can really see or feel at Kitesurfing Lanka, what would that be?"
"Well first of all, we are both kitesurfers! So I think it's safe to say we understand the vibe, and what should be done to make it a magical place. We still enjoy taking people wave riding, downwinding etc. The (downwind)trips and wave riding, that is my passion right now and I love to share it". I can really see the stoke in Dils eyes when he tells me this. He adds: "Everything you see in the kitecamps has been built  by us and we did almost everything with our own hands. So we can not really name one thing, it's just really our kitecamp at Kalpitiya and Mannar".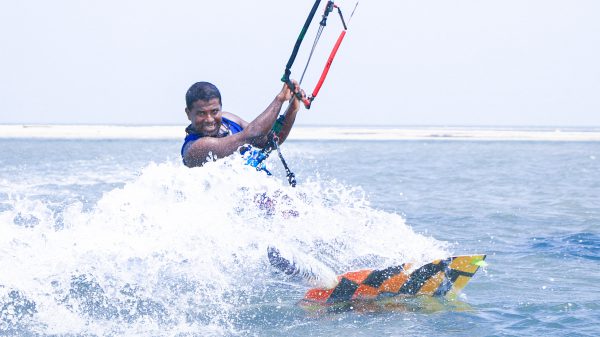 "The big thing you have in common is kitesurfing of course, and a true stoke for the sport and the things that come with it. But, is there still time for you to be out on the water yourself?!
"Yes you really have to make time for this. But we love kitesurfing so much, it goes more or less naturally. As you know my favorite discipline is wave-riding and do big downwinders. The downwinder from Kalpitiya to Mannar is epic and I love to do it more often. I probably will try organise a 300km downwinder very soon. This will take place over two days. First day 150km and second day the other 150km. The first one I will probably do with friends, but later on I want to take more people and of course we have a safety boat!" .
"Do you have some final words or message for the people still in doubt to visit Sri Lanka for kitesurfing?"
"If you are really into kitesurfing, no matter the discipline, you should really visit Sri Lanka anyway at least once in your life. The locations of our kitecamps on Sri Lanka have it all: from deep waters for foiling, to waves and long coastlines for strapless or downwinding, to super flat lagoons and deserted places for perfect freestyle conditions"
Want to read more blogs? Click here!