Essaouira – Kite & Surf house
Best wind: March - November
From €35 p.p.p.n, bed and breakfast plus 2x dinner

Morocco

English, French, German or Dutch.
Dirham (MAD), Euro
Spot Highlights
Wind en waves: geniet van een veelzijdige spot.
Een volledig surfcenter met huur- en lesopties.
Wekelijks activiteiten zoals beach-clean-ups en downwinders.
Bab Marrakech، Rue Mohamed El Qorry, Essaouira, Marokko
Get directions
WHAT DO WE OFFER?
Kitesurf house Essaouira; doesn't that sound like the ultimate kitesurf getaway? We'll hook you up with an affordable, comfortable house which you will share with like-minded people. Your host provides all the tips and tricks you'll need and will make sure you'll know all the best (surf)spots, marketplaces, cafés and restaurants.
Book a room in the Essaouira kitesurf house: stay surrounded by the locals in the medina of Essaouira within walking distance of the beach.
This accommodation is based on bed and breakfast, including WiFi, towels and bedlinen.
ACCOMMODATIon
This cosy, small-scale riad hotel with 6 rooms is located close to Essaouira's kite and surf spot.  
The rooms are equipped with a double bed or two single beds. There is a toilet, shower, wardrobe and a seat where you can relax. This accommodation consists of several rooms, named after various kitesurfing spots. Perfect for friends, just travelers alone or couples.
We have a number of other accommodations available just outside this Riad, suitable for families or groups who would like to travel low-budget and share a room with several people. Feel free to send us a message for more information!
Wondering what the options are regarding your kitesurfing holiday to Essaouira?
Send us a message or give us a call, all free of obligation!
Find out more about kitesurf house Essaouira or any of our other destinations on instagram.
Prices of the Essaouira kitesurf house accommodation
€70 for 2 persons in a room based on bed & breakfast and including dinner twice a week (the dinner is a BBQ once on the roof terrace and a traditional meal cooked by and / or at locals.
€45 for 1 person in a room based on the above.
+ Storage incl. rescue service
1 day €15 || 2 days €25 || 5 days €75 || 1 week €100 || every extra day after one week +€10
KITESURFING PACKAGES ESSAOUIRA
INDEPENDENT KITESURFER PACKAGE
7 nights in the kite and surf house
Storage + rescue service
1x downwinder or kite trip (sidi kaouiki or moulay) incl guidance
Extensive breakfast + 1x dinner (bbq or traditional dinner) in the kite surf house €659
INDEPENDENT KITESURFER PACKAGE (EXTENSIVE)
7 nights in the kite and surf house
Storage + rescue service
1x downwinder 2nd beach
1x kitetrip moulay beach
Extensive breakfast + 2x dinner (bbq and traditional dinner) in the kite surf house €675
7 nights in the kite and surf house
12 hours of group lessons
Extensive breakfast
Kitesurfing equipment rental at the end of the lessons
Free use of surfboard (rental)
1x Traditional Moroccan dinner with the people of the surf house
1x BBQ on the large roof terrace of the surf house with the people of the surf house and the kiteschool
€699 (offer subject to availability!)
Can you kite yet, and do you only want a few lessons?
Are you staying longer or shorter than a week?
Do you only want a downwinder, kitetrip or just a few days of storage?
Let us know, and we'll make a tailor-made package for you! All packages are subject to the following conditions
Are you staying alone in a room? Then there is a supplement of €10 per night.
Your host
The Dutch and/ or Swiss host of the kitesurf house Essaouira provides a lot of fun.
In addition, the host helps you to arrange airport drop off, supermarket visits, a tour of the Medina (old walled city center where the Riad is located), organizing kite or surf lessons or other activities such as beach yoga, quad tours or horseback riding on the beach.
Together with the host we also arrange other accommodations outside this Riad.  Feel free to ask us for more information, all free of obligation!
MORE ABOUT ESSAOUIRA
When staying in this kitesurf house Essaouira, you'll be staying in a small town with restaurants, shops, a cozy authentic market / night market, bars, a doctor's post and hospitals.
The town of Essaouira is as far as we are concerned somewhat off the beaten track. Of course there are more and more tourists but turn off the 'main street' (independence street) and you walk between the locals along restaurants where you can still dine with delicious Harrirra soup with freshly baked bread for less than € 2, –
The Essaouira kitesurf house is approx. 15 minutes drive from the airport of Essaouira.
We will be happy to arrange an airport transfer for you from Essaouira airport (around €25). But transfers from Marrakech and Agadir are also possible (from about €80).
People are friendly and take their time for you.
Tip: always greet people first and ask them how they are doing, before you say what you want. That's very much appreciated!
Please note all the prices mentioned are subject to change.  
PAYMENT METHOD AND CURRENCY
The currency in Morocco is the Dirham. In Essaouira you can pay with this Dirham and in more and more places you can also pay with your credit- or debitcard. In the Essaouira kitesurfing house you pay with your debitcard or with cash in Dirham or Euro.
arrival & departure
Fly to Essaouira Airport ("ESU").
Royal Air Maroc has flights here from Casablanca. Please keep in mind the maximum number of kilos and dimensions: 23kg, 220x40x40 for your boardbag.
Transavia also has flights to Essaouira, for example with a stopover in Paris (Orly). Taking a board bag with you costs about  €50 per one-way ticket at Transavia.
Through ticket comparison websites like KIWI you can often find cheap flight tickets. Would you rather compensate directly for the CO2 emissions of your flight? Book via FlyGreen (flygrn). 
You can also fly to Agadir or Marrakesh. We will be happy to arrange your airport transfer.
There is no fixed arrival or departure day at the kite surf house in Essaouira.
KITESURFING ESSAOUIRA  – SPOTGUIDE
There is a surfing and kitesurfing school with the latest PLKB rental and teaching equipment.
They also offer storage for our guests!
» Essaouira.  Side – Shore (NNO or W) – Beginners to advanced and Wave – Right in front of the kiteschool Explora – Downwinders – Storage, Assistance + showers available.
» Other – Essaouira .   Large waves can occur – more directing the harbor the waves become smaller but the wind is less stable because it comes over the harbor. There is surfing between the school and the harbour. Surfing is best at mid / high tide.
» Essaouira lagoon .  Estuary – knee / hip deep – mud bottom.  Downwinder / trip to this spot possible.
» Kite trips Essaouira . Downwind trip: 2nd beach €25 – Downwind trip: Sidi Kaouiki / Moulay €50 – Kite trip: North Moulay beach €50 .
Tip: walk towards the spot (about 15 minutes) and take back a taxi for 7 dirham (€0.65).
WIND & FORECAST
| | | | | |
| --- | --- | --- | --- | --- |
| PRE-DOMINANT WIND DIRECTION | North– | North Easterly | | |
| Best Season: | March | November | | |
| Peak Season: | April | August | | |
| Type kitesurfer | Wave | Intermediate | Freestyle | Freeride |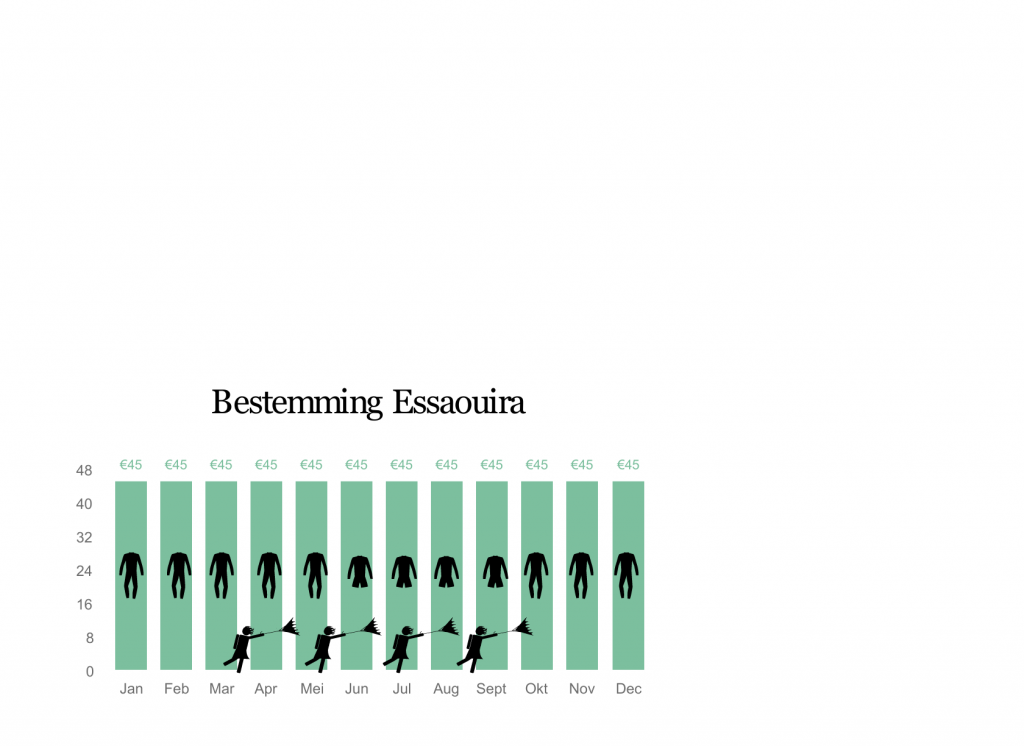 OTHER ACTIVITIES
In Essaouira there is plenty to see and do besides surfing and kitesurfing! Therefore, you will find below a number of activities that can easily be undertaken from the Essaouira kitesurf house.
Discover the medina (walking) The medina is actually a small town centre in a town. Surrounded by walls that look like castle walls you can walk along the market along merchants with fresh fruit or typical Moroccan delicacies.
Discover the beach and the fish market (walking) Outside the walls of the medina is the beach and the port. The harbour is a very photogenic must-see. Buy a fresh juice for less than €0.50 and walk past authentic fishing boats and walk to the beach between camels, horses and (kite-) surfers.
Horseback riding Our host will be happy to show you the stables. These horses are well cared for and you will be assigned a horse that fits your level. Whether you can already ride or canter on the beach: everything is possible!
From the explora surf centre you can also book mountain bike tours. Great for the no-wind mornings.
Massage Zahira is the "woman of the house" and makes the rooms and breakfast. What she also does is give massages in the room! Highly recommended.
Sunbathing on the sun-drenched roof terrace The terrace is not only suitable for BBQs but also for relaxing, reading and sunbathing.
Sidi Kaouiki Visit this village (beach) about 20 minutes drive. Sand as far as you can see and virtually no people to be seen except a few locals on a donkey…
Shopping, Eating and Drinking
Go to the night market or the Sunday market. Our host on location will be happy to show you the best stalls. Or shop at Otman, Chic? (mega loft) bring a well-filled wallet for the latter. WindowShoppers also welcome!
Food and drink Breakfast is included in the stay.
For lunch and dinner we have some great tips for you!
Lunch on the beach at Ocean Vagabond. They have delicious salads and bake fresh pizzas outside in the stone oven.
Have a cold beer or a nice cocktail on the edge of the medina at the harbour at Tarros. Beautiful views of the setting sun and (traditional) live music and happy hour every night!
Dining is possible at Mega Loft. A concept store, rooftop bar and restaurant in one! Every corner of this special place is used and there is always a cozy place to find! Another nice place in the medina is Coast. You can drink delicious coffee or eat traditional tagine. The owner is just not always present: when the surf is good he closes his toko for a while..  Finally, we want to mention Triskala where they have a small day ticket and where eating is an experience in itself: all special tables and small corners. So this is highly recommended, especially for the vegetarians and vegans among us.
SUSTAINABILITY
At Outbound we love our planet and I'm sure you do too. There are several eco-friendly shops and restaurants close by!   The kitesurf house in Essaouira takes care of its surroundings and the planet. That's why food will never be thrown away here. In addition, they only buy locally.
Also nice: they organize a beach-clean-ups (almost) every Sunday. They only employ locals at this kite and surf centre. And, these boys are trained internally as IKO or VWDS instructor. They get a fair salary and breakfast + lunch at the school.